TINA - The Rock Legend - The Ultimate Tribute - Explosiv! Authentisch! LIVE on stage!
Tickets from €42.90
Concessions available
Event organiser: RESET Production, Straße des Friedens 200, 07548 Gera, Deutschland
Event info
Das einzigartige Tribute-Event "Tina – The Rock Legend" bringt Tina Turners feurige Bühnenshow auf Tour.

"Die große Tina Turner - eine absolute Ausnahmekünstlerin. Ihr einzigartiges Lebenswerk feiern und ehren - das ist unser Anspruch bei TINA - The Rock Legend" so Michael Noll, Geschäftsführer von Reset Production.

Die Verehrung für die Rock Legende spürt man in der aufwändig produzierten Multimedia-Show vom ersten bis zum letzten Ton.

"Nutbush City Limits", "Let's Stay Together", "What's Love Got To Do With It", "Break Every Rule", "Typical Male", "Foreign Affair", "Simply The Best", "GoldenEye". Ein Superhit jagt den nächsten – performed mit einer umwerfenden Wucht und leidenschaftlicher Bühnenpräsenz durch das hochkarätig besetzte Ensemble aus erstklassigen Sängern, Musikern und Tänzern ist das Tribute-Konzert unfassbar nah am Original.

Erleben Sie eine beeindruckende musikalische Retrospektive über das Lebenswerk des Superstars Tina Turner in einem einzigartigen Tribute-Konzert der Superlative.

Explosiv! Authentisch! LIVE on stage!
Videos
Location
Kultur- und Kongresszentrum Gera
Schlossstraße 1
07545 Gera
Germany
Plan route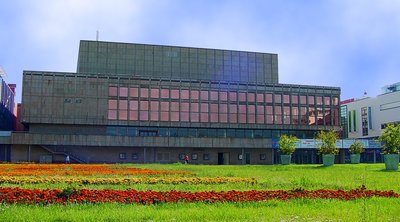 Mitten im Stadtzentrum von Gera befindet sich mit dem Kultur- und Kongresszentrum Gera die größte Veranstaltungshalle Ostthüringens. Ein vielfältiges Raumangebot, mehrere hauseigene Gastronomien und umfangreicher Service machen das KuK zu einer beliebten Lokalität für alle Arten von Events.

Als ehemaliges Haus der Kultur wurde es 1981 eingeweiht und avancierte als Sendeort der alljährlichen Weihnachtsshow "Zwischen Frühstück und Gänsebraten" schon in der DDR zu einem wichtigen Kulturzentrum. Nach einer umfangreichen Sanierung erstrahlt das KuK seit 2007 in neuem Glanz: Das innovative Lichtkonzept wirkt modern und kreiert ein elegantes Ambiente.

Der große Saal, mehrere Foyers und Konferenzräume werden speziell für Tagungen, Bankette oder Tanzveranstaltungen hergerichtet. Auch Konzerte aller Genres, Comedy-Abende oder Messen stehen auf dem Programm: Annett Louisan und Ich+Ich standen im Kultur- und Kongresszentrum Gera schon auf der Bühne, auch politische Veranstaltungen finden hier oft statt.